Cloud-based environment: The new normal for IT shops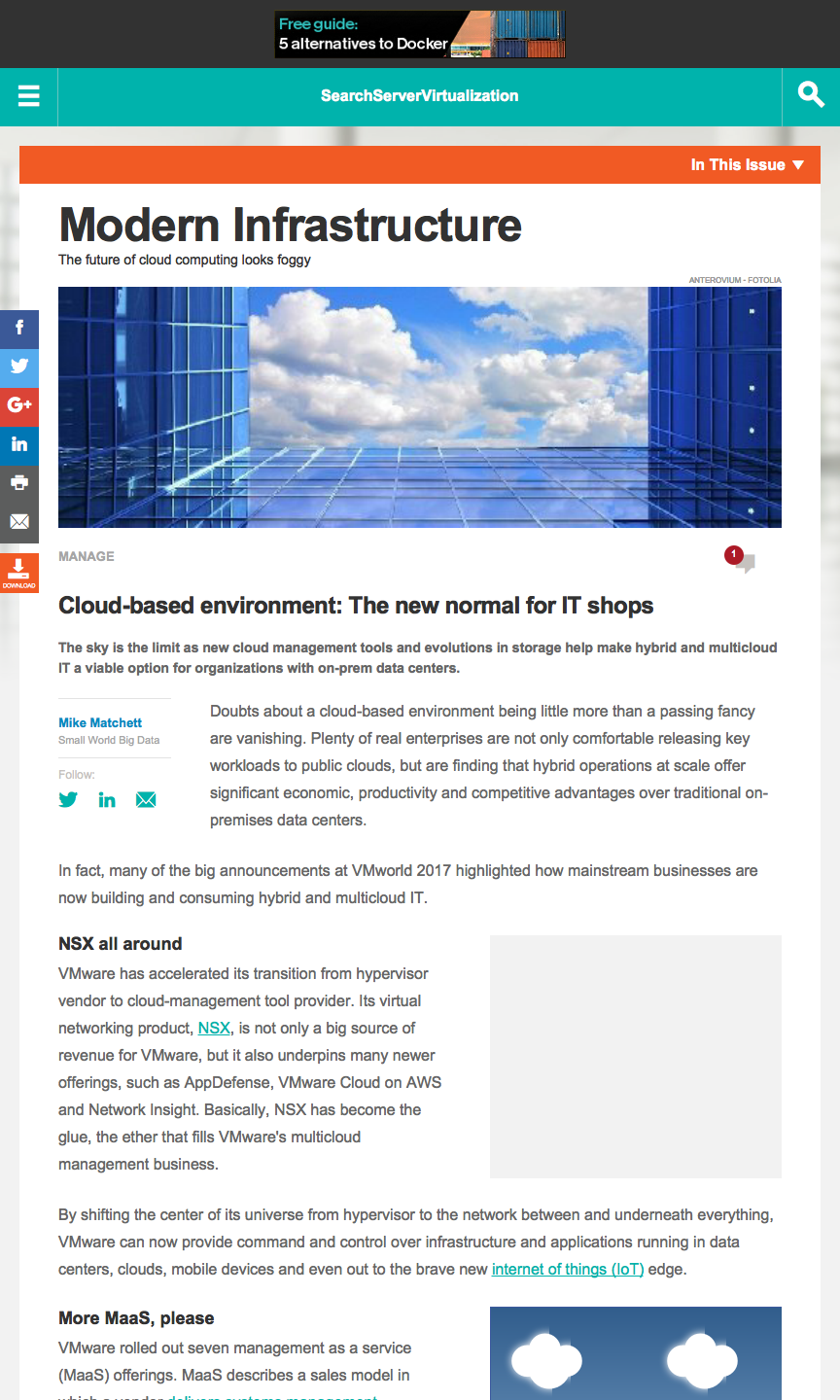 An IT industry analyst article published by SearchServerVirtualization.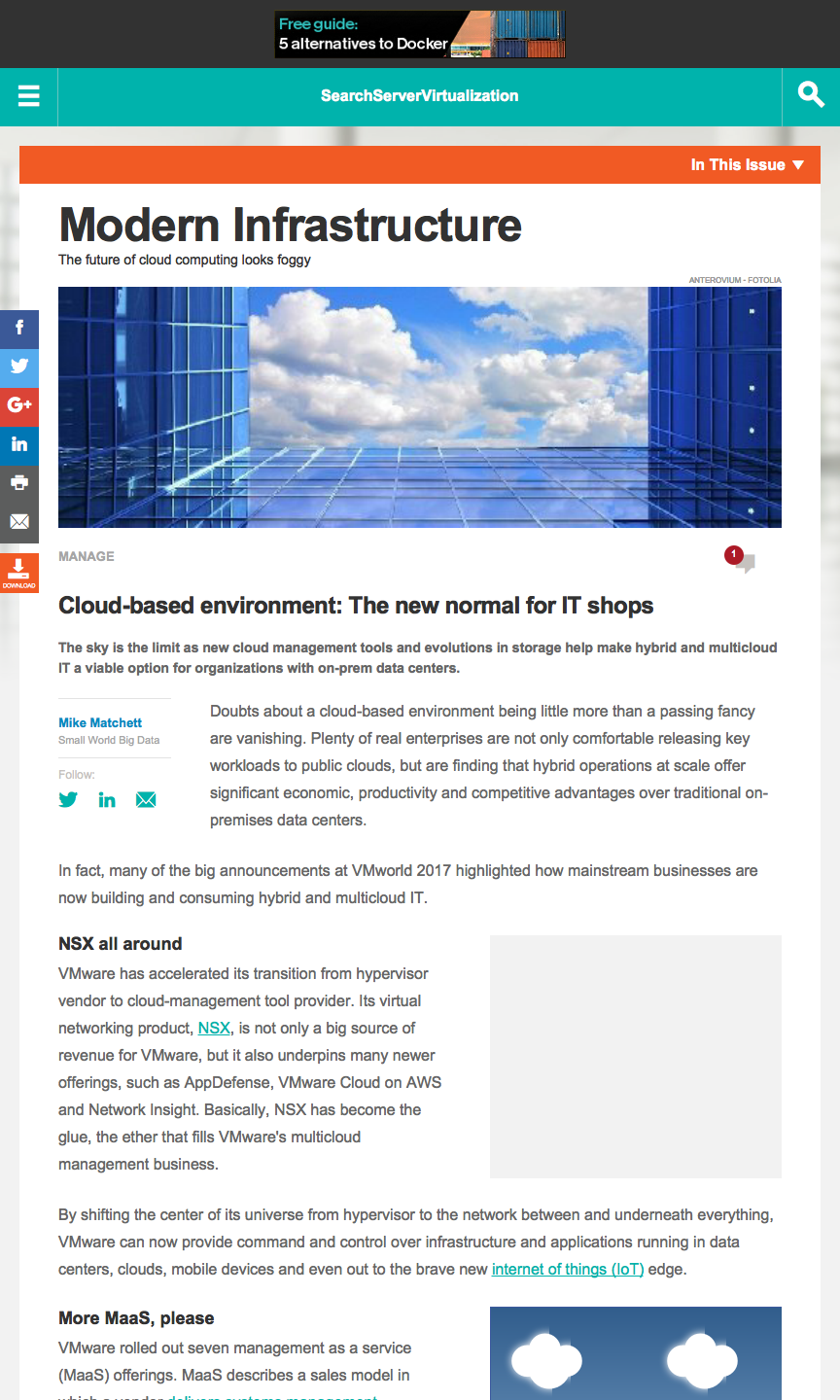 The sky is the limit as new cloud management tools and evolutions in storage help make hybrid and multicloud IT a viable option for organizations with on-prem data centers.
Mike Matchett
Small World Big Data
Doubts about a cloud-based environment being little more than a passing fancy are vanishing. Plenty of real enterprises are not only comfortable releasing key workloads to public clouds, but are finding that hybrid operations at scale offer significant economic, productivity and competitive advantages over traditional on-premises data centers.
In fact, many of the big announcements at VMworld 2017 highlighted how mainstream businesses are now building and consuming hybrid and multicloud IT.
NSX all around
VMware has accelerated its transition from hypervisor vendor to cloud-management tool provider. Its virtual networking product, NSX, is not only a big source of revenue for VMware, but it also underpins many newer offerings, such as AppDefense, VMware Cloud on AWS and Network Insight. Basically, NSX has become the glue, the ether that fills VMware's multicloud management business.
By shifting the center of its universe from hypervisor to the network between and underneath everything, VMware can now provide command and control over infrastructure and applications running in data centers, clouds, mobile devices and even out to the brave new internet of things (IoT) edge.
More MaaS, please
VMware rolled out seven management as a service (MaaS) offerings. MaaS describes a sales model in which a vendor delivers systems management functionality as a remote, subscription utility service. MaaS is ideal for systems management tasks across multiple clouds and complex hybrid infrastructures.
One of the motivations for MaaS is that the IT administrator doesn't need to install or maintain on-premises IT management tools. Another is that the MaaS vendor gains an opportunity to mine big data aggregated across their entire customer pool, which should enable it to build deeply intelligent services.
Four of these new services are based on existing vRealize Operations technologies that VMware has repackaged for SaaS-style delivery. We've also heard that there are more MaaS products on the way.
It's important for vendors to offer MaaS services — such as call home and remote monitoring — as the inevitable future consumption model for all systems management. There isn't a single organization that benefits from employing an expert to maintain its internal, complex systems management tool. And with mobile, distributed and hybrid operations, most existing on-premises management products fall short of covering the whole enterprise IT architecture. I have no doubt the future is MaaS, a model that is bound to quickly attract IT shops that want to focus less on maintaining management tools and more on efficiently operating hybrid, multicloud architectures.
Storage evolves
The VMworld show floor has been a real storage showcase in recent years, with vendors fighting for more attention and setting up bigger, flashier booths. But it seemed this year that the mainline storage vendors pulled back a bit. This could be because software-defined storage products such as VMware vSAN are growing so fast or that the not-so-subtle presence of Dell EMC storage has discouraged others from pushing as hard at this show. Or it could be that in this virtual hypervisor market, hyper-convergence (and open convergence too) is where it's at these days.
If cloud-based environments and hybrid management are finally becoming just part of normal IT operations, then what's the next big thing?
Maybe it's that all the past storage hoopla stemmed from flash storage crashing its way through the market. Competition on the flash angle is smoothing out now that everyone has flash-focused storage products. This year, nonvolatile memory express, or NVMe, was on everyone's roadmap, but there was very little NVMe out there ready to roll. I'd look to next year as the big year for NVMe vendor positioning. Who will get it first? Who will be fastest? Who will be most cost-efficient? While there is some argument that NVMe isn't going to disrupt the storage market as flash did, I expect similar first-to-market vendor competitions.
Data protection, on the other hand, seems to be gaining. Cohesity and other relatively new vendors have lots to offer organizations with a large virtual and cloud-based environment. While secondary storage hasn't always seemed sexy, scalable and performant secondary storage can make all the difference in how well the whole enterprise IT effort works. Newer scale-out designs can keep masses of secondary data online and easily available for recall or archive, restore, analytics and testing. Every day, we hear of new machine learning efforts to use bigger and deeper data histories.
These storage directions — hyper-convergence, faster media and scale-out secondary storage — all support a more distributed and hybrid approach to data center architectures…(read the complete as-published article there)