Engaging Storytelling
ANALYST-GUIDED INTERVIEWS
Making technology relevant to people with expert insight and validation should be a main component of your online marketing content strategy

• Custom Podcasts
• Video Events
• Executive Interviews
• Engaging Demos
Video Services
Valuable Content
TRUSTED PERSPECTIVE
Leverage independent analyst opinion on big data, IT convergence, data protection/storage, cloud transformation and security

• Awareness Articles
• Education Whitepapers
• Leadership Research
Content Services
Audience Driven
EFFECTIVE DEMAND GENERATION
Work with proven media partners integrating our analyst-driven content with professional demand gen to optimize campaigns

• Turn-key packages
• Guaranteed lead counts
• Entertaining content
Media Partners
EARN SOCIAL MEDIA ATTENTION
30 Second to 3 Minute Spots
Deliver readily consumable social media sound bites. Highly informative and engaging videos attract and grow social media audiences. Produce teasers for deeper content and bite-sized education to motivate and engage prospects with your CTAs (Calls To Action).
SHOWCASE EXECUTIVES & DEMOS
5 to 15 Minute On-Demand Content
Mix and match 1:1 Executive Interviews and Product Management/SME demos with enthusiastic quick-take Analyst perspective to deliver 3-4 main points, educating prospects, validating your solution and influencing decision makers.
EDUCATE AND ENGAGE AUDIENCES
20 to 45 Minute Webinar Events
Analyst-hosted video+slides format sets a new standard for effective lead generation. We offer a wide range of easy, professional recording options from analyst-only opinions to live multi-person events with picture-in-picture over slides. We can even mix-in animations and pre-recorded demos to highlight your messaging goals.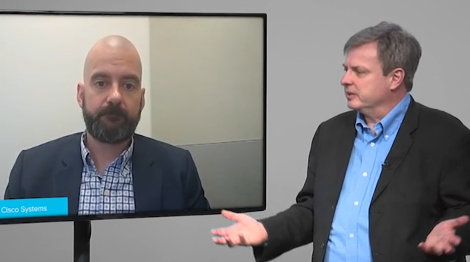 TARGETED MEDIA CONTENT FOR LAUNCH, CHANNEL & CAMPAIGNS
All marketing content plans should include a solid mix of expert video content ranging from "short attention span" media clips and engaging analyst events to validating pieces like research "exposés" of emerging markets, first-person customer testimonials and dynamically illustrated use cases.
Who Says White Papers Are Dead?
IT Marketing requires a 360 degree content strategy to best engage intelligent, knowledge-hungry professionals. Augment expert rich media with thought-provoking reports and articles, published opinions, entertaining blogs and respected survey results from our ongoing research.
We work hard creating new content that best serves our audience – time-pressured IT professionals. Within that committment, we can flexibly customize projects for your content marketing strategy.
Solution Profile
The gold standard white paper exploring a new or emerging solution from our independent analyst perspective.

Educational technical contents are wrapped between a sharp executive intro and the analyst's summary recommendation.

Profiles can also outline use cases, best practice approaches, financial models or provide an "analytical" framework for deeper IT evaluation.
Customer Field Validation
Combining the best of all validations – solution, customer, financial, and vendor – our field reports provide a foundational cornerstone for both sales and marketing.

As a trusted 3rd party, we expertly interview 4-5 customers documenting key findings and anecdotes (optionally anon.). Presenting each as a short use case story, we wrap the whole report with an analyst overview and final takeaways.
Analyst Opinion
From guest blogs to industry articles, our published analyst perspective and opinion is engaging, widely read and respected.

Diligently vendor-neutral and hype-free, our thought leadership pieces present new solutions to tough problems.

We illustrate main points with novel vendor approaches to educate IT pros and inform purchaser shortlisting.
Market Research
We initiate research into trending and emerging IT topics on a continual basis.

Small World Big Data research marries high-quality focused surveys (n>150) with qualitative pre-survey and follow-up interviews.

Our research calendar offers sponsorship opportunities for the popular kick-off and summary events, survey data tracks and Market Research Reports.
Contact Small World Big Data
S

mall World Big Data & TruthInIT
We create and host cost-effective video events for high-quality marketing content with guaranteed lead generation.

For examples, just visit Small World Big Data's public TruthInIT channel with 200+ IT Vendor interviews and demos. More added every week!
BROWSE Small World Big Data on TruthInIT
TURNKEY WEBINARS & LEAD GEN
We work with TruthInIT to make it easy. Together we handle show hosting, recording, production, promotion, demand gen/registration and media publication for you all in one package.

It's fast and easy on your presenters too. Recording sessions are fun, webcam-based guided interviews with your executives, experts and customers.

You'll receive:
• High quality audience engagement
• Guaranteed cost-effective leads
• Tuned-in prospects for follow-up

Our innovative video formats help viewers feel personally connected, generating immediate interest and productive conversations.
CONTACT us about events!
XSTREAMINAR
Multi-channel webinar events
Xstreaminar was built for better channel marketing. Now you can deliver and share great sponsored webinar events with ALL of your channel partners at the same time.

Xstreaminar "wraps" around sponsor events to provide each partner with their own co-branded event microsite (and co-branded invites, etc.). Each partner can invite their own audience to the event without fear of mixing or sharing leads!
WATCH an Xstreaminar Explainer
Great for Sponsors, Awesome for Partners!
Are you spending your MDF wisely? If your organization relies on effective channel marketing, you've got to take a look at Xstreaminar!

Xstreaminar multiplies your MDF. With just four quarterly lead gen events and 100 partners, you can provide 400 uniquely co-branded partner lead gen opportunities!

Even better for partners, partner-specific promo video clips can be inserted before, during and after the event directly in the event video stream!
REQUEST an Xstreaminar Demo
PODCASTS WITH
FLYING PIG AUDIO
What's better than video to reach busy IT professionals where they both work and play?

Podcasts as Audio Marketing Content!

Small World Big Data is working with Flying Pig Audio to create bespoke, custom podcast "seasons" for organizations that recognize the need to reach out and grab people by the ear!

We can provide a complete turnkey podcast season targeted at IT technical audiences while working with your expert "voices". Or maybe you only need on-air hosting and top-notch production?

Start by listening to a few of our recent episodes:
LISTEN to our podcasts
Audio Is For Experts
Audio quality is paramount for radio shows and podcasts. Even the best concept falls flat if the listener doesn't stay fully engaged – and the quickest way to lose listeners is poor sound.

Small World Big Data has partnered with the best – Michelle Redo of Flying Pig Audio. Michelle has over 30 years of audio and radio show production experience at the well-known WGBH public radio in Boston, expertly producing everything from promos to nation-wide shows.

As a team we've got you covered from start to finish. We'll create a great show, and make your new show sound great!
GET IN TOUCH About Audio Marketing!
Great Solutions Deserve Audience-Aligned Content!
Engaging analyst-driven videos and podcasts make great launches, effective channels and successful campaigns
CONTACT us about Content!